Seniors and their families who are considering senior living may be unsure about where to begin in their search for the right fit. If your loved one could benefit from assistance with daily tasks, or needs more specialized care for Alzheimer's and other forms of dementia, choosing the right community comes down to considering some important factors and looking at the difference between senior communities and nursing homes.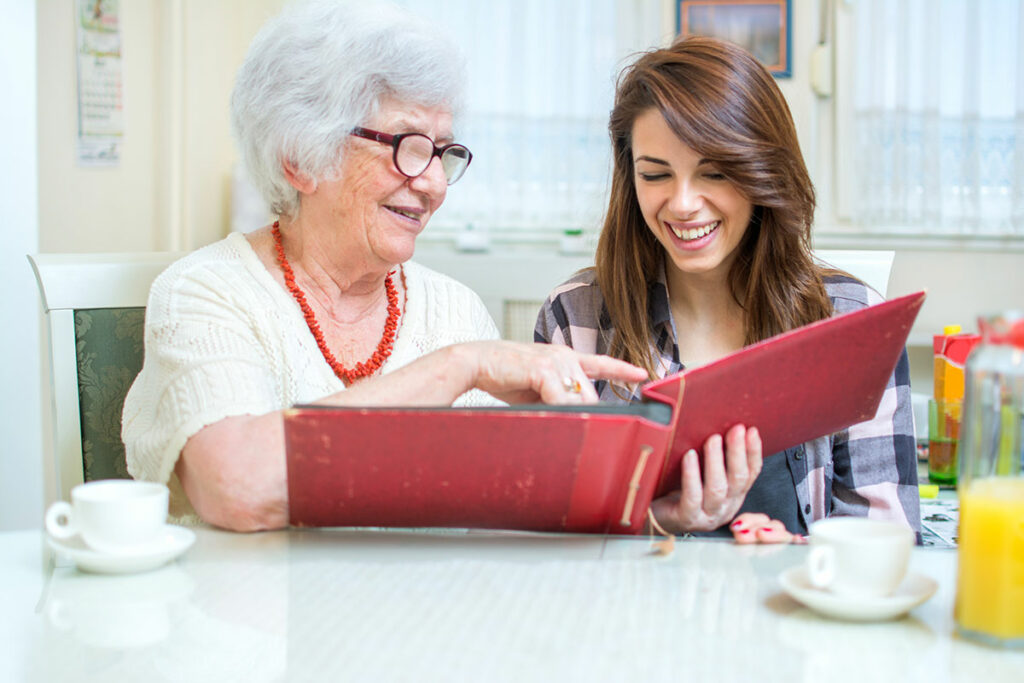 What Level of Care Does a Nursing Home Provide?
Nursing home care is generally better suited for extensive long-term care needs due to chronic illness, impairment, injury, or recovery from surgery. It's similar to the care that you would receive in a hospital. Nursing homes offer skilled nursing care as well as assistance with custodial care like bathing, dressing, and eating.
Nursing homes generally have individual or shared rooms and bathrooms but do not have the wide range of activities offered to residents in assisted living communities. Research shows that staying physically active and socially engaged is very important for seniors' health and well-being. If your loved one is living with Alzheimer's, Tennessee and Virginia dementia care communities might be a better fit.
What should I look for in a senior living community?
For seniors living with Alzheimer's, Tennessee/Southwest Virginia communities like Dominion of Bristol have specialized memory care programs that can help them stay active and engage in purposeful activities.
A senior living community that offers memory care will provide dining services, housekeeping, exercise and wellness programs, medication management, scheduled transportation, and tailored health plans for your loved one.
This kind of care, devoted to the specific and unique needs of seniors with memory loss, promotes security and well-being with experienced staff and 24/7 monitoring.
In-house physical therapy is also available at Dominion of Bristol, offering easy access to care if your loved one needs continued therapy following a hospital stay, surgery, or injury.
Questions to ask when touring a memory care community
Making an informed decision involves doing a bit of research. The following questions can get you prepared to make a decision about a community for your loved one.
What are the costs?
When meeting with a community, determine what the costs of care will be. It's important to understand what those costs cover. According to caring.com, "the average monthly cost for memory care remains moderately priced at $5,131, which is about $500 less than the national cost of $5,625."
In a community like Dominion of Bristol, rates include thoughtfully organized social, wellness and spiritual activities, chef-prepared meals, and individualized care plans.
What kind of training requirements are in place?
Seniors with Alzheimer's or other forms of dementia have special needs. They are best served by a caring team who understands how to engage with and communicate effectively with them.
The staff should complete extensive training to communicate with, assist, and care for seniors living with memory loss. This ensures they are prepared to care for your loved one with kindness and compassion.
What kind of activities are available?
Your loved one will benefit from regular social activities that meet them at their level, helping them engage their communication skills, emotional awareness, and cognitive abilities. Ask to see a schedule of activities or to see them in action.
How do you stay in contact about my loved one's progress?
The community should stay in contact with you about your loved one. Find out how often you'll meet with their care team and how they'll keep you informed about their health, social, and physical activity. At Dominion of Bristol, the Wellness Director meets with each resident and their family to develop an individualized care plan. After outlining the level of care that works best for your loved one using behavioral, environmental, and programming strategies, you'll get regular updates on that plan.
Are respite services available for seniors with Alzheimer's?
Tennessee and South West Virginia families searching for the best care for their loved one may want to try respite services for short-term stays. This is a good option if you want to see what a community is like on a trial-run basis, if you have an upcoming trip, or just need a temporary break from being a caregiver. Respite care can be a welcome reprieve.
Caring for someone with memory care can be challenging and rewarding. It's understandable that you want to provide the best environment, care, and living situation possible for your loved one. Making a decision about where to find the right dementia care for your family isn't an easy one. Do your research and be prepared to visit several facilities. Ask the questions above as well as others on your list to be sure you understand the culture, care, and amenities that your loved one will be provided.
Let us help you navigate care for your loved one
At Dominion of Bristol, we understand the challenges of living with Alzheimer's. Tennessee/Southwest Virginia area families have a trusted dementia resource that can help you find a loving, comforting home for your loved one. Contact us today to learn more.