Dominion Senior Living Celebrates Mother's Day 2019
We hosted our Mother's Day Tea Reception on Saturday, May 11th—a special event to pay tribute to the wonderful mothers who make up a huge part of our Dominion family. We put our own spin on the traditional English tea party with some Southern favorites handcrafted from our Dining Services department. Our buffet consisted of a spread of triple-fudge brownies, petite lemon cakes, scrumptious cake batter cookies with a hint of lemon, crystallized sugar cookies, and fruit trays featuring a rainbow made of fresh local strawberries, juicy watermelon, fresh cantaloupe, sweet pineapple, and blueberries.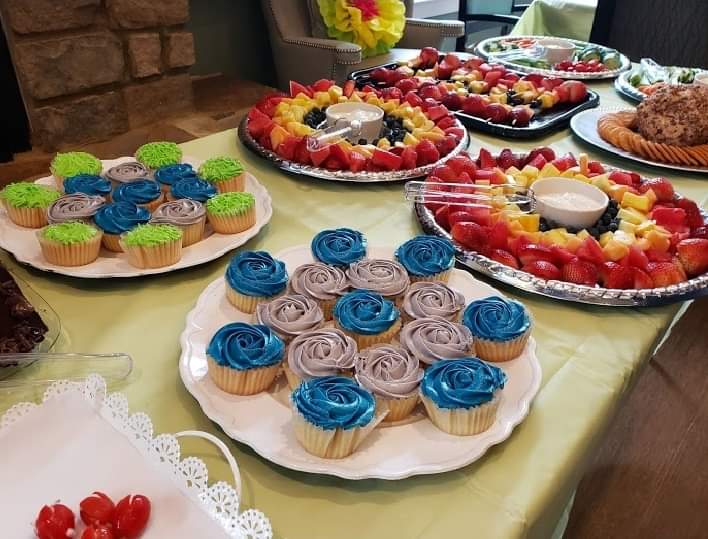 Dining Services Director Morgan Owens decorated a beautiful bouquet of floral cupcakes, and Chef Cindy's famous pecan-crusted cheese ball made a special appearance to add some savory goodness to our menu of sweets!
Guests seated at each table had their choice of a variety of hot tea flavors: spiced chai, English breakfast, chamomile, peppermint, green tea infused with lemon, raspberry, blueberry, peach, and moringa. Guests who preferred a beverage other than hot tea or coffee on this balmy day were treated to the finest sweet tea you'll find in Bristol. Fresh vegetable trays rounded out our tea reception menu, with a special Mother's Day tribute creation made by our Dining Services Director. During our tea reception, we were serenaded by beautiful piano music played by Heidi, one of our wonderful CNAs who also happens to be a talented musician!
Our event happened to coincide with National Stamp Out Hunger Day, so we collaborated with resident families and team members to collect canned food items and other nonperishables for donation to one of our local food pantries. Over 60 pounds of goods were collected, and we took a few of our residents on a scenic bus ride to Virginia Avenue United Methodist Church to present the donated goods! We learned that this ministry serves many seniors, which struck a special chord in our hearts! We love serving our community and ensuring that each person under our roof knows how much they are loved.
Take a Look at Photos from the Event