If you or someone you love has been diagnosed with dementia, it can be confusing and overwhelming. Know you are not alone in this journey. Find solace and understanding in a local support group.
Dementia is a term used to describe a group of symptoms related to memory loss and other cognitive abilities. Forgetfulness that affects daily life is known as dementia.
Understanding the various types of dementia can ensure that you or your loved one receives the appropriate care.
Let's explore different types of dementia and why social isolation can be detrimental to those with severe memory loss. We will also discuss the importance of social activities in memory care in Louisville.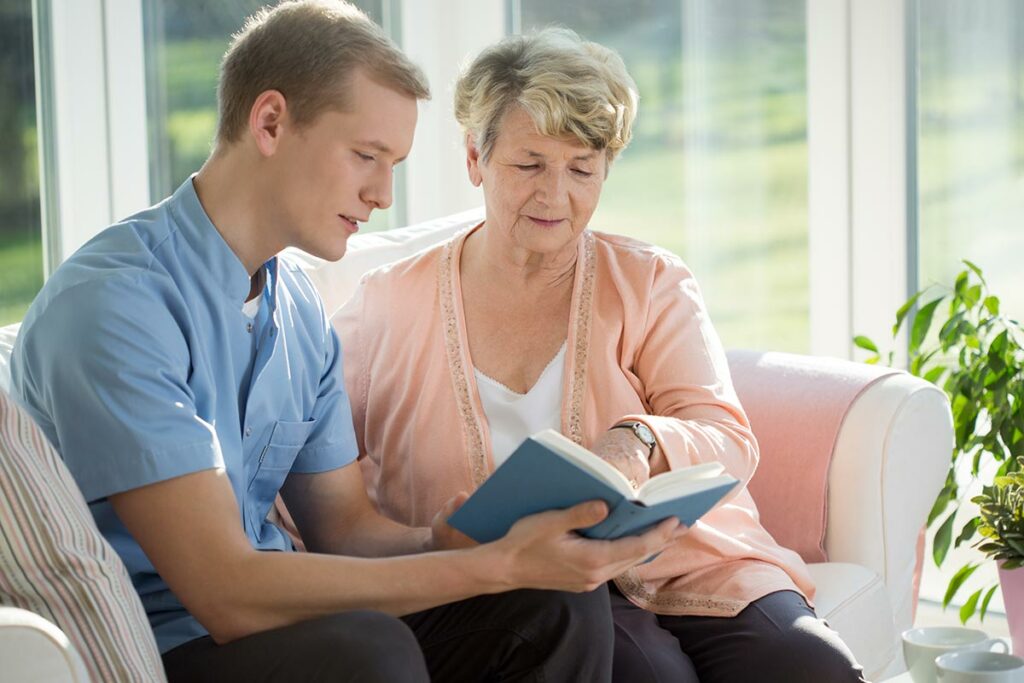 How many types of dementia exist?
Researchers know of over 100 types of dementia. Each form has unique characteristics and symptoms. Visit a doctor to determine the exact type of memory loss. The five common types of dementia include Alzheimer's disease, vascular dementia, Lewy body dementia, frontotemporal dementia, and mixed dementia.
Alzheimer's is the most prevalent form of dementia, accounting for 60-80% of cases. This type of dementia is characterized by the buildup of beta-amyloid and tau proteins in the brain. It results in memory loss, confusion, and difficulty with daily tasks.
Vascular dementia is caused by a lack of blood flow to the brain, resulting in cognitive impairment. It is often linked to stroke or damaged blood vessels. Memory loss may not be as severe as other dementias. People with this form experience difficulty with judgment, focus, and problem-solving.
Lewy body dementia is a type of dementia caused by the accumulation of Lewy bodies. These are abnormal protein deposits in the brain. This type of dementia is often associated with Parkinson's disease-like symptoms, including tremors and rigid muscles.
Frontotemporal dementia affects the front and temporal lobes of the brain, leading to changes in behavior, personality, and language skills.
Mixed dementia is a type of dementia that occurs when an individual has more than one type of dementia. Individuals with mixed dementia may have beta-amyloid and tau protein buildup associated with Alzheimer's and Lewy bodies. Mixed dementia can be challenging to diagnose and treat.
Most forms of dementia are progressive. Eventually, a person with dementia will require 24-hour care.
Loneliness and Dementia
Research has shown that social isolation and loneliness can increase the risk of dementia. It can also worsen and speed up symptoms for those already diagnosed.
People who reported loneliness were twice as likely to develop dementia compared to those with regular social interactions.
Loneliness can also lead to depression and anxiety, exacerbating dementia symptoms. Those with dementia need to stay socially active and engaged. Activities that boost mental stimulation and interaction are essential.
Family members providing home care play a crucial role in promoting health. Provide physical and mental challenges such as puzzles, seated exercises, and short social functions. These activities help stimulate brain cells, elevate mental acuity, and increase blood flow to the brain.
What facility is best for dementia patients?
When it comes to dementia care, dedicated memory care facilities are often the best option for older adults. Memory care communities are designed specifically for individuals with Alzheimer's and other forms of dementia. They offer specialized services and programming to meet unique needs.
The team in a dedicated dementia care community completes specialized staff training to care for the dynamic needs of a resident.
Look for senior living communities that offer assisted living and memory care services. This feature allows older adults to age in place and receive different levels of care for changing needs.
An excellent example of this is Dominion of Louisville. We offer both personal care and secure memory care services in one community. Our team follows personalized care plans tailored to each resident's unique needs. We focus on creating a supportive and engaging environment that promotes a higher quality of life.
Ultimately, the best memory care facility in Louisville will depend on individual needs and preferences. Research and visit potential communities. Ask specific questions to select a community that provides quality care and support for someone with dementia. Use respite care as a trial run.
Is there high-quality dementia care in Kentucky?
Yes! Comprehensive and premier memory care in Kentucky is available in Louisville.
At Dominion of Louisville, we understand the importance of memory care and social activities for those with dementia.
Our memory care program is designed to provide personalized care for those with Alzheimer's and other forms of dementia. Our expert team provides:
24-hour supervision
Assistance with daily living activities
Medication management
Social activities designed to promote mental stimulation and social interaction
Nursing homes are typically for people who cannot walk or complete tasks independently. Our community encourages independence through a variety of social activities, including art classes, exercise programs, and music therapy. These specialized benefits help reduce the risk of social isolation and loneliness.
Dementia is a complex condition that can be challenging to navigate. Understanding the various types of dementia is essential to ensure that you or your loved one receives the appropriate care. Recognizing the negative impacts of social isolation and loneliness is also crucial.
We are committed to providing high-quality memory care and social activities to support families in Kentucky. Visit us and experience the vibrant atmosphere of our Louisville memory care community.
Visit Upscale Memory Care in Louisville, KY
Dominion of Louisville wants to be a resource for your family. Don't try to navigate the complications of dementia alone. Contact us to learn more about our high-quality memory care services in Louisville, KY.