The team at Dominion Senior Living of Louisville is passionate about providing high-quality assistance and personal care to seniors. We understand that moving to a new home can be tough. That's why we take pride in making everyone feel comfortable and welcome. Our goal is to provide an environment where seniors can thrive, regardless of their age or ability.
How We're Different
We offer both personal care and memory care services, which means we can cater to your loved one's changing needs. We believe that seniors deserve personalized attention and the care they need to be happy and fulfilled.
We work closely with each resident and their family to create a care plan that meets their unique needs. As a family-owned organization, we put the needs of seniors first. To ensure residents live with freedom and independence, we thoughtfully organize social, wellness, and spiritual activities into daily life. Chef-prepared meals and expert care add to our residents' experience.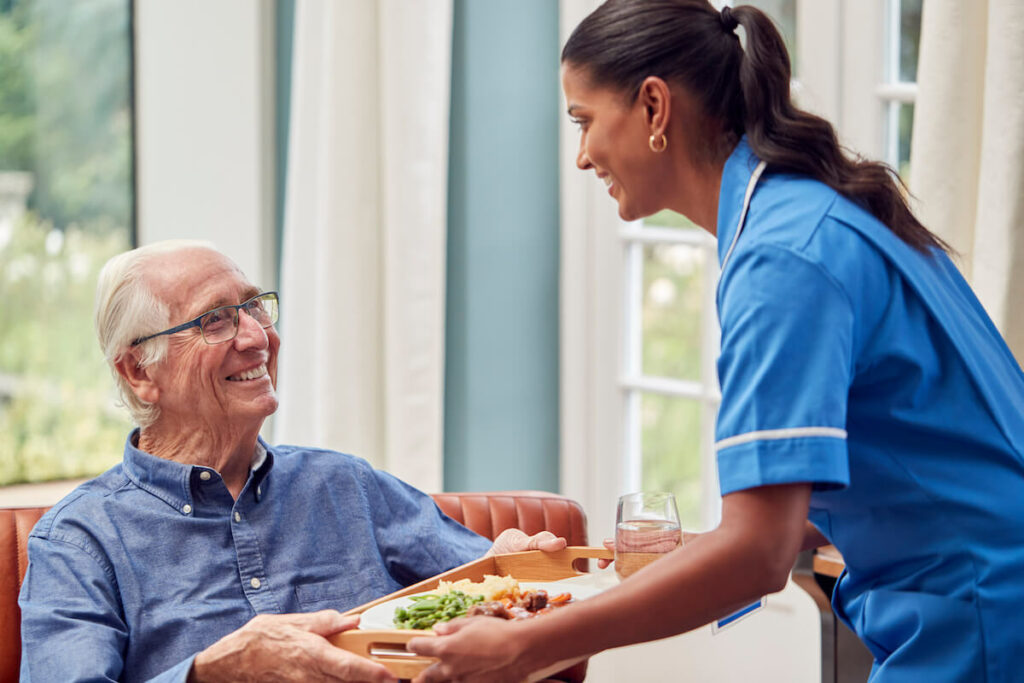 What is personal care?
Understanding what's offered in Louisville assisted living is easier when you know how those services differ from personal care. Personal care is a type of long-term care that helps people with basic activities of daily living. Those activities include bathing, dressing, and using the restroom.
Personal care can also include help with eating, taking medications, and moving around. Personal care services are typically provided by licensed nurses or other health professionals.
What is the difference between personal care and assisted living?
Personal care and assisted living offer similar services. State licensure mandates the difference to protect seniors and guarantee levels of care.
Both forms of care provide senior housing, activities of daily living assistance (ADLs), and 24-hour support. Personal care offers a higher level of health care services than assisted living.
Assisted living does not have to be licensed in Kentucky. Personal care homes are regulated and inspected by the Office of Inspector General.
Basic ADLs are usually provided in assisted living facilities. These residents must administer their own medications and can walk on their own. Seniors who require additional services will need a third-party caretaker.
With personal care offered at Dominion of Louisville, licensed nurses are ready to assist with care needs. Our personal care services include:
Medication management
Assistance with ADLs
On-site rehab and health care services
Transportation
Life enrichment activities
Worship services
Salon
Cyber cafe
Emergency call system
Our individualized care plans mean seniors only pay for the services they require. The more independent the senior, the lower their monthly care costs.
Many of our residents do not have to opt for third-party care partners. On-site rehabilitation and health services take away the hassles of traveling to receive care. We provide more assistance so our residents can have more fun.
More than just care
Dominion of Louisville is about a lot more than care and assistance. We provide personal care so seniors can enjoy the amenities that make our community so unique. Residents appreciate our plentiful activities, on-site salon, excursions, and worship services.
Home should be the place where you feel comfortable, relax and enjoy your days. We make that possible for seniors. We are so excited to welcome you to our community. We look forward to providing your loved one with the highest quality of care possible. If you have any questions, please don't hesitate to contact us.
We would be more than happy to answer any of your questions or concerns. Thank you for considering Dominion Senior Living of Louisville as your new home!
If you are considering Louisville assisted living, come tour our community and see what makes us so special. Experience the difference between traditional assisted living and personal care.
We look forward to meeting you!
Let us help you create a customized care plan that best meets your needs. Schedule a tour today!