Choosing memory care for a loved one with Alzheimer's or dementia can be an incredible relief for seniors and their family members. Dementia care communities remove the heavy burdens of providing support, so your family can enjoy quality time with each other again.
Do you have questions about communicating with someone experiencing memory loss? You might want to know how to talk to someone with dementia in a meaningful and respectful way.
How do you talk to a person with dementia?
Treat people with dementia the same way you would treat any other adult. Speak to them with respect and be aware of their visual clues. Notice if their body language changes, indicating they may be too tired to continue a conversation.
Be patient when holding a conversation. Seniors with memory loss sometimes need a moment to find their words. Let their words come to them. Don't rush them or try to correct them. Give them time to express themselves.
Keep the conversation on track by reducing distractions. Avoid trying to talk to someone while watching their favorite show or concentrating on eating a meal. Aim for quiet areas at a time when they are most alert.
While you want to soak up as much time with a loved one as possible, keeping the interaction brief can lead to more meaningful conversations. Twenty to 30 minutes of positive interaction can allow someone with dementia to feel valued and included.
How should you not talk to a person with Alzheimer's or dementia?
Make every moment count by being respectful to your loved one. The goal of talking to someone with dementia should be positive. It may not be easy, but avoid these seven phrases and patterns to make older adults feel respected.
No "baby talk." Don't try to infantilize your loved one. Respect their dignity by speaking to them as adults.
Avoid the phrase, "don't you remember?" A lot of the time, they will not. Terms like this can reinforce their memory loss and lead to low self-esteem.
Do not yell at them. Not all older people have hearing loss. While it is important to speak clearly and slowly, it doesn't mean you should shout at them.
Don't argue with them. If your loved one says something you know to be false, just let it go. Live in their reality for the time and let them express what they want. Avoid interrupting or correcting. It often will lead nowhere.
Avoid teasing them. People with dementia might not get the joke if they are the punchline. It can lead to feelings of confusion and insecurity.
Do not talk about them if they can hear you. Don't hold side conversations with caregivers or other family members and talk about your loved one like they are not present.
Don't take what they say personally. It can be challenging if a loved one starts saying things that upset you. Remember, arguing will get you nowhere. Let them say what they need and steer the conversation to the next topic.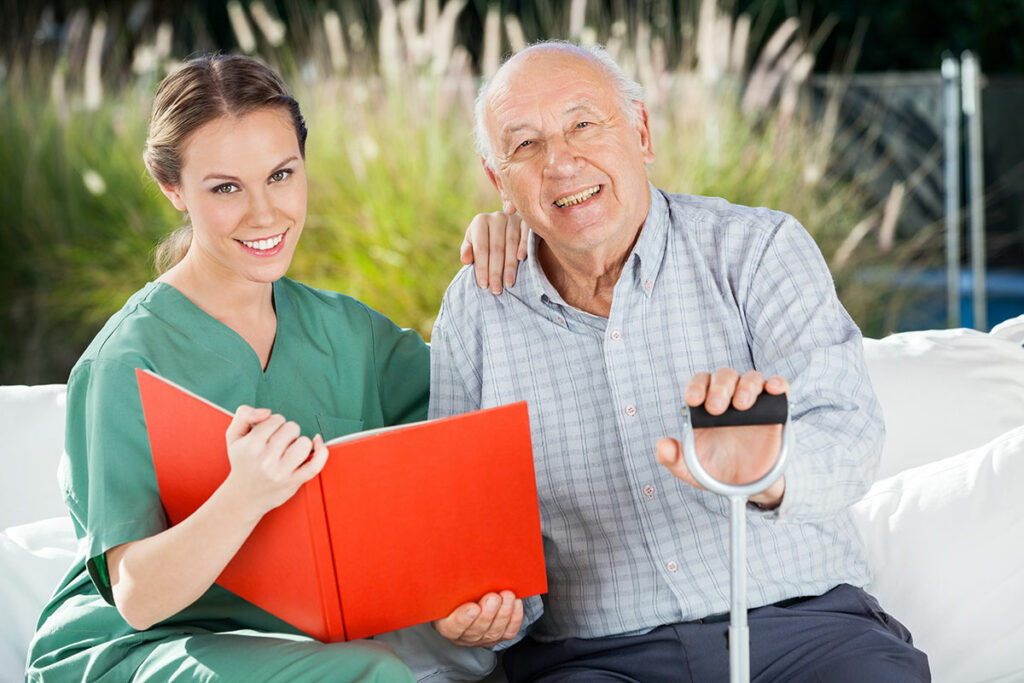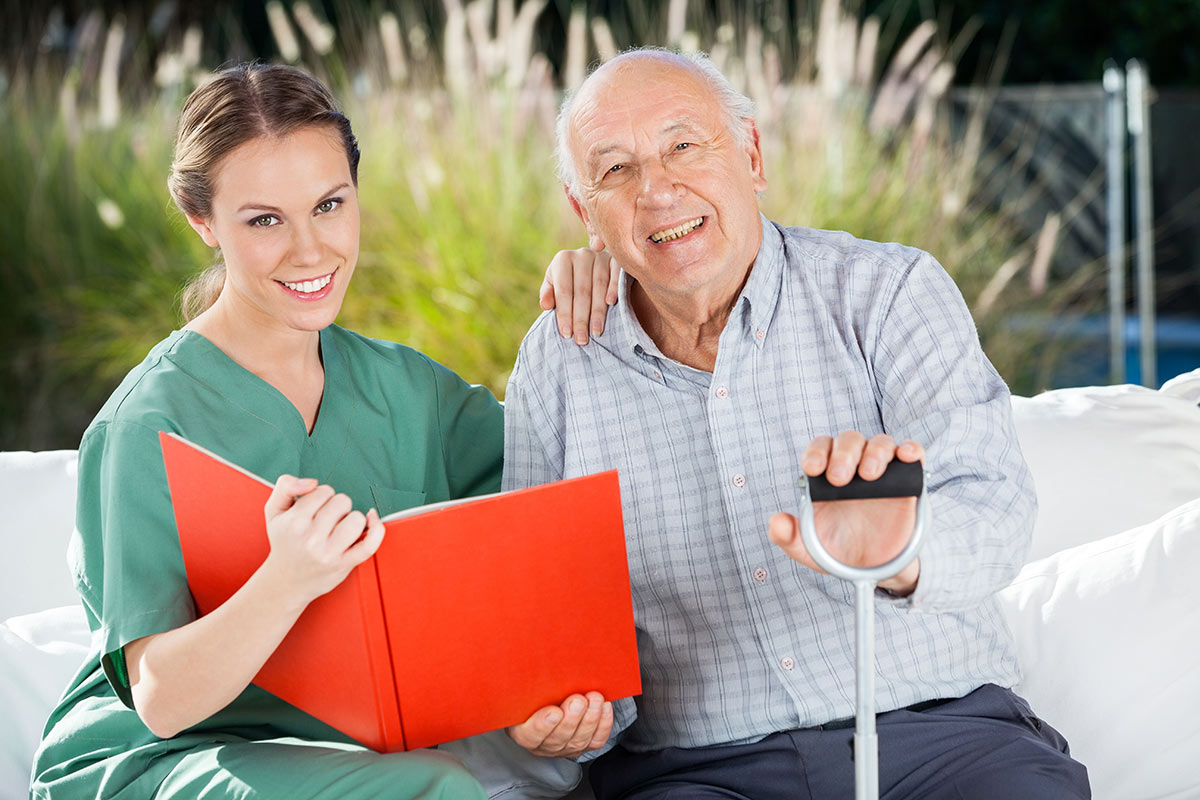 What do you talk about with someone with dementia?
You may find yourself at a loss for words when communicating with a person experiencing memory loss. Let's look at five ways to spark conversation.
1. Open-Ended Questions
Enjoy meaningful interactions with a loved one by asking open-ended questions. Ask them for their opinion and related questions. It can help when you know the back story:
Do you prefer winter or summer? What time of year did you get married?
Do you like chicken or beef? What kind of farm did you grow up on?
Would you rather live in a yellow house or a blue house?
Asking yes or no questions is fine too, but open-ended questions with no wrong answers are best. Let them tell stories.
2. Props
Bring props with you to keep a conversation going. Visual cues may trigger memories in your loved one. Try things like:
Photo albums
Toys and games
Family heirlooms like quilts or artwork
Favorite articles of clothing
Items from a hobby they enjoyed like a tool, baseball glove, or camera
3. Music
Music can be a powerful tool for recalling memories. Use a small speaker to play your loved one's favorite music. You don't even have to talk to accomplish a meaningful moment like this. Nonverbal communication can be just as effective.
4. Activities
Activities are an excellent way to get people excited. Memory care communities provide daily activities, but trying different ones with your mom or dad might be fun. Try:
Seated exercises and stretching
Going for a walk
Bringing a pet
Folding towels or easy chores
Recording an audio or video interview with your loved one
Showing them home movies
Work on a puzzle or play cards
Read to them
5. Be Spontaneous
Live in the moment with your loved one. Dementia can present windows of time that should be celebrated. Drop everything and live in those moments, even if it doesn't follow your plan for the day. Be adaptable and adjust accordingly.
If your loved one feels reserved or agitated, try to comfort them. Touch can be a powerful and calming tool. Without invading their personal space, try giving them a hand massage.
Your loved one may tell a story you've heard hundreds of times. That's ok. View it as an opportunity to get better at listening and reacting to the story.
Be present, smile, and remain at eye level. Use active listening skills and make your loved one feel valued. Finding the right words to say is not always easy. Live in the moment and enjoy what might happen.
How does memory care help people with dementia?
Senior living communities like Dominion of Frankfort provide personal care and memory care services for older adults.
Memory care is an elevated and enhanced version of assisted living that utilizes dementia care experts to provide individualized support. Purposeful physical and mental activities can help relieve behavioral and emotional issues.
Our specialized team members offer:
Activities of daily living assistance like bathing, grooming, and dressing
Medication management
On-site rehabilitation
Individualized services and activities
Specialized dementia caregivers create a family-like environment with residents. Our secure memory care area is calming, clean, and welcoming. We allow seniors with memory loss to find purpose and build relationships with others on a similar journey.
Frankfort Senior Care For All Stages
Senior care for all stages of aging and dementia is available at Dominion of Frankfort. Contact us to arrange a tour and give your loved one an elevated lifestyle. We'll do the heavy lifting so you can live in the moment.