You may have seen us making headlines. Our Senior Prom exemplified the true community spirit of Dominion of Richmond. Our residents spent over a month visiting our prom store and working with community partners to make the night perfect.
Tune in to FOX 56 News or LEX18 for complete coverage.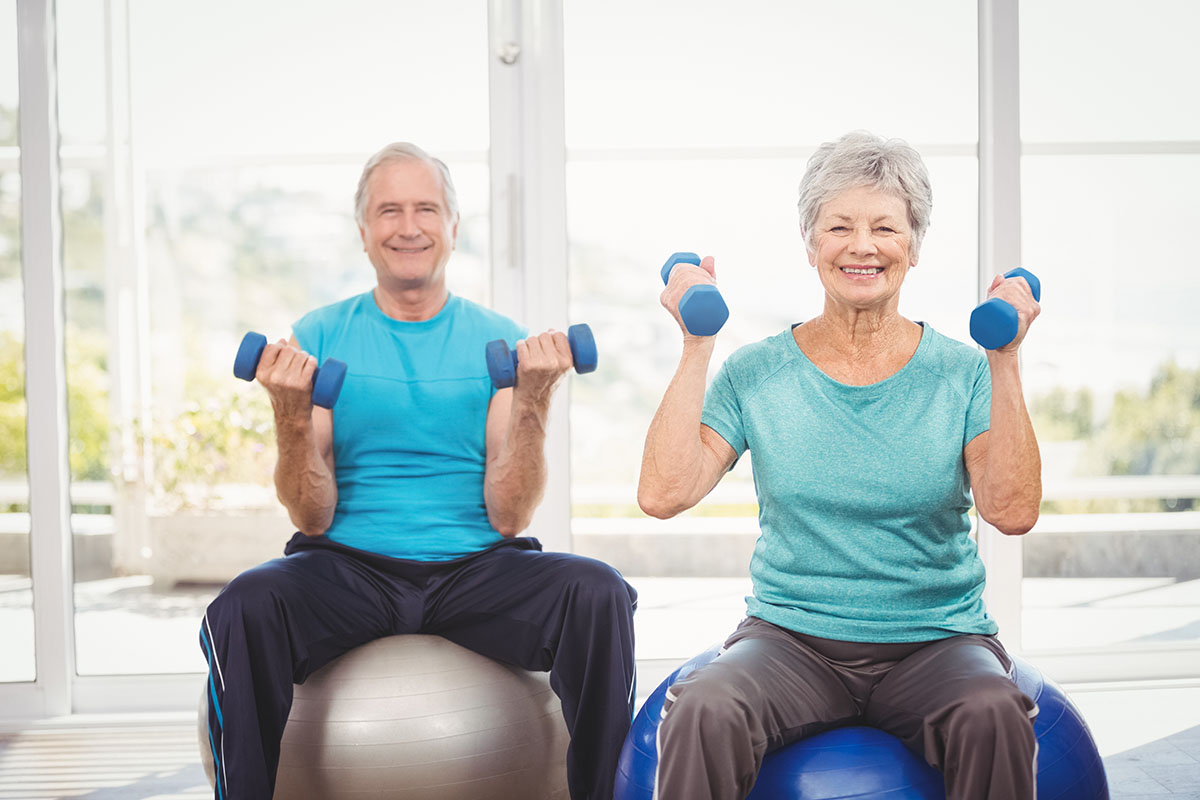 For many seniors, getting involved in their local community can significantly impact their overall quality of life.
As we get older, staying active and engaged in our community becomes increasingly important. Local senior activities like the ones offered at Dominion of Richmond are an excellent way to do this.
Senior activities can help to promote social interaction and combat isolation. They can also provide opportunities for physical activity, vital for maintaining health and preventing chronic diseases.
Staying active in older age can help keep the mind sharp and boost mood. So whether you're looking for ways to keep fit, meet new friends, or simply improve your outlook on life, consider the lifestyle offered at communities like Dominion of Richmond.
Read along to discover what a month in senior living is all about and how it benefits health.
The Benefits of Senior Activities
There are many benefits associated with senior activities. Staying active and engaged can help:
Reduce stress levels
Improve mental sharpness
Promote social interaction
Delay the onset of Alzheimer's disease and other forms of dementia.
Activities provide a sense of purpose and fulfillment for older adults like anyone else. They can also be a great way to connect with others with similar interests.
At Dominion of Richmond, we understand the importance of senior activities. Staying active is a form of health care.
We offer various programs and events specifically designed for seniors by our dedicated Activity Director. Our goal is to help residents stay connected with their communities and find purpose in their everyday lives.
One Month in Senior Living
The Activity Director and life enrichment teams are always busy. They meticulously plan daily activities like exercise and games. They also work on larger projects that give residents something to look forward to attending.
If you follow our Facebook page, you'll notice we stay busy with many things only available in our personal and memory care community. This much fun is hard to replicate at home.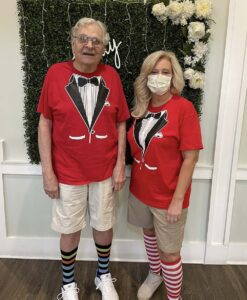 Sometimes it is okay to be silly. Silly together builds community. One of the best ways to do that is with a spirit week. Our spirit weeks include everything from tailgate parties to team members dressing like residents.
For those that enjoy working out, our community partners at Neil Burns Fitness Center and Transcend Training visit to give residents the encouragement they need to meet their wellness goals.
Animals bring joy to everyone. We love getting visits from Deputy Roman. We also spent time painting bee hives. These designs help inspire the bees in our area to pollinate and thrive.
Residents also earnestly raised caterpillars into butterflies as well. These are two ways our community gives back to the greater community.
Friends and family visits give us even more pride in our senior living community. We had a wonderful Oktoberfest celebration. The event was complete with carnival games, putt-putt golf, and tasty drinks, thanks to Dreaming Creek Brewery.
Additional visitors included:
Live worship services
Live music and magic
Encouragement and songs from the children's ministry at First Baptist Church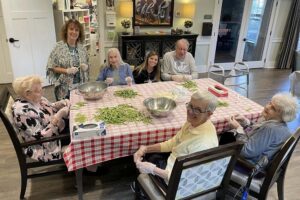 It's also nice to get out and explore Richmond. Taking trips to places like Kelly's Fruit Market is a great excuse to grab some produce for a bean-breaking party and enjoy a little ice cream treat.
Our memory care has implemented the use of memory boxes outside each resident's room. The purpose is to ignite familiarity and connection with residents while making their new home feel like home.
Our team is excited to look at these pictures and objects to learn more about our wonderful dementia care residents. Recollection objects are something people can do at home for their loved ones living with memory loss. It's an easy way to increase connectivity.
We encourage home caregivers and family members to attend our monthly support meetings. This event starts in November. Every second Thursday of the month, from 6 p.m. to 7 p.m., we will host support sessions in our dining room.
Thank You For The Senior Prom
Our residents had an incredible time at our senior prom. It involved so much support from local businesses and people that we have to say thank you again.
Thank you to our community partners:
Kroger Wine and Spirits for donating the flowers.
Willows Farm and Garden for the corsages and helping with the alterations of the dresses.
Jessica and Debbie at Mary Kay for doing makeup.
Ladonna, our in-house beautician, for doing hair.
Althea, for the jewelry donation.
Stay Active. Visit Dominion Senior Living of Richmond
Dominion of Richmond is proud to offer a variety of local senior activities. We believe that it is essential for seniors to stay active and engaged in their communities. Our goal is to provide seniors with opportunities to connect with others, stay active, and find purpose in their everyday lives.