When a loved one is diagnosed with Alzheimer's or other forms of dementia, finding a memory care community that meets their needs can be overwhelming. However, Dominion of Anderson offers a relaxing environment with compassionate, individualized care for those with memory loss.
Located near the Aaron, Northlake, Piedmont, and Sandy Springs neighborhoods in South Carolina, this senior living option of several in the area is an excellent choice for older adults needing high-quality memory care services.
What options are available in Anderson for memory care?
Anderson, SC offers a variety of memory care opportunities to best serve seniors living with cognitive decline, including:
In-home dementia caregiver services: professional caregivers available for seniors who wish to remain at home.
Day care services for memory care: daily relief for families and caregivers, offering supervision and activities in a secure setting.
Nursing homes: often referred to as care facilities, these institutions focus their efforts on treating chronic conditions in medical environments.
Long-term memory care communities: around-the-clock professional staff and secure, home-like amenities help to promote wellness.
South Carolina respite care: allows seniors to live like permanent residents of long-term care communities while their caretakers are away.
Memory care at Dominion of Anderson is grounded in individualized care plans that focus on residents' strengths and interests. The team works closely with each resident to understand their unique needs and preferences and shape the assistance they receive.
Through this individualized approach, the memory care team can optimize the resident's physical, emotional, and cognitive wellbeing by setting achievable goals and monitoring progress.
Our care is not only individualized, but it is also compassionate. The team is trained to manage the symptoms of Alzheimer's and dementia, such as confusion, delusions, and agitation, with a gentle, understanding, and spiritually-minded approach. They encourage residents to be active members of the community, getting involved in activities and socializing, which in turn enhances their mood and well-being.
What else sets our South Carolina memory care community apart?
Memory Care Apartments and Other Inviting Spaces
Dominion of Anderson provides cozy living spaces for residents to call their own. The community has its unique common areas, such as outdoor patios and gardens, where residents can relax and socialize with other community members.
Security to Put Your Mind at Ease
Memory care residents have access to 24-hour supervision and security as well. This ensures that residents receive prompt assistance in case of emergencies, as their health and wellness are our top priority.
The Ability for Seniors to Stay Active
Our team providing memory care in Anderson, South Carolina leads a range of activities and therapies designed to enrich the lives of residents.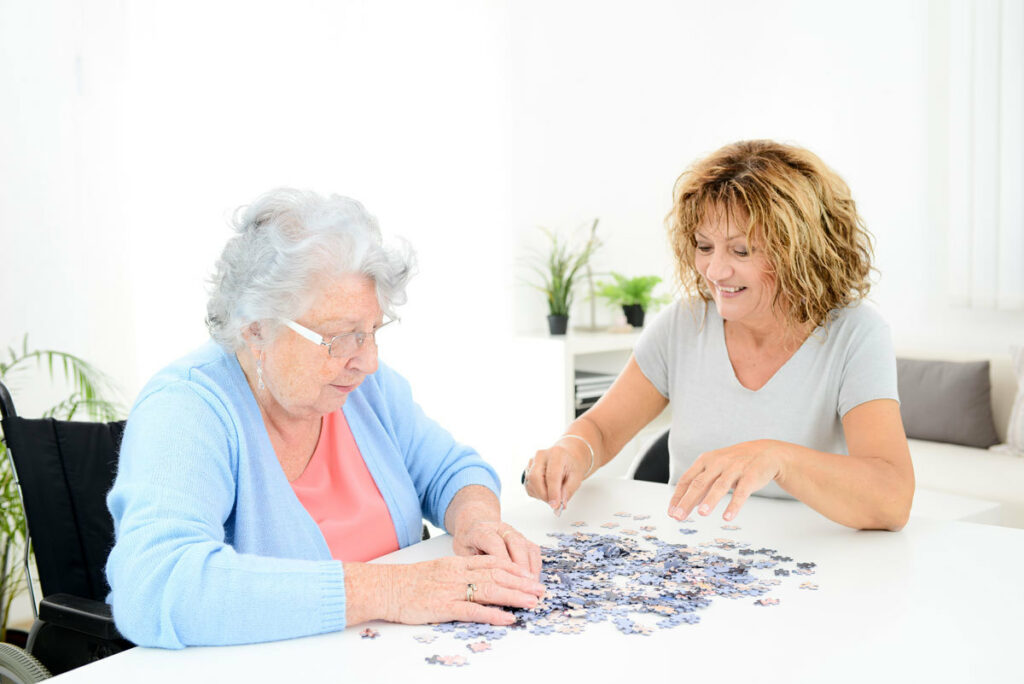 From music therapy to pet therapy, residents will enjoy a variety of activities tailored to their interests and individual care plans. The community's amenities provide excellent opportunities to socialize with peers, participate in fitness classes, enjoy arts and crafts, and take part in cultural events for seniors around Anderson County.
Helpful Information About Memory Care
Anderson, SC community Dominion of Anderson offers resources for family members, too — both directly from our associates and through our senior living blog. With the help of our communities, families receive guidance and education on how to manage their loved one's conditions.
Memory care is a journey for any person with dementia and their families, which the team at Dominion of Anderson kindly understands.
Will your search for memory care in Anderson, South Carolina start here?
Choosing Dominion of Anderson means that families are confident that their loved ones will receive exceptional care that meets their physical, emotional, and spiritual needs. If you live in Anderson, SC, within or near neighborhoods of Aaron, Northlake, Piedmont, or Sandy Springs, we invite you to thoroughly research senior care options near you, including Dominion of Anderson.
Get in touch with our local team for more information about memory care: when it's necessary, the differences between assisted living and memory care, what respite or long-term care pricing is like, and so much more.