Caring for a family member with Alzheimer's or dementia can be a demanding and emotionally taxing experience.
Awareness of the signs of caregiver burnout and compassion fatigue is crucial. In this article:
Learn about caregiver burnout and compassion fatigue.
Practice tactics to manage your emotions and energy levels.
Find resources available to manage stress and mental health.
Discover when it is time to consider the next steps in your journey as a family caregiver.
Here is what you need to know about providing a loved one with the best care possible.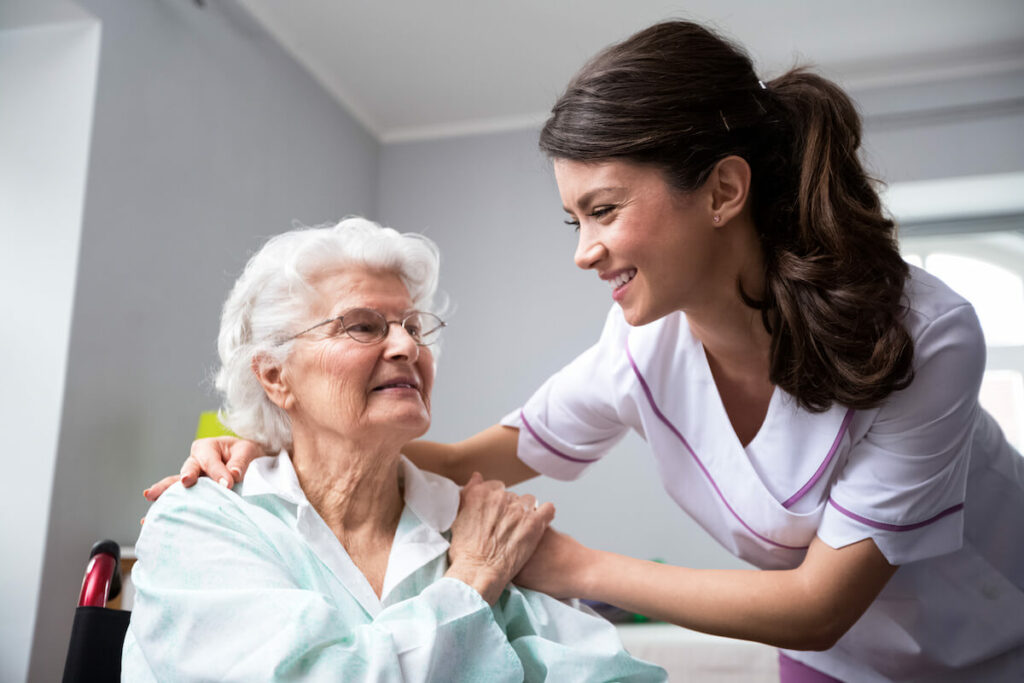 What is caregiver burnout?
Caregiver burnout is a state of physical, emotional, and mental exhaustion that can occur when caring for a loved one with a chronic illness. Symptoms of caregiver burnout include feeling isolated, overwhelmed, or hopeless.
If you're experiencing any of these symptoms, it's essential to seek help.
Burnout can start with feeling overwhelmed and stressed. Caregivers may not even notice the feeling until it is too late. These emotions can lead to:
Changes in sleeping
Changes in eating habits
Anxiety
Depression
Burnout can lead to chronic health problems such as high blood pressure and heart disease if left unchecked. Caregivers who take care of themselves can provide better support.
Take care of yourself physically and emotionally when caring for a loved one. Taking breaks, exercising regularly, and eating a healthy diet can help prevent caregiver burnout.
If you struggle to care for a loved one, don't be afraid to ask for help from friends or family members.
Caregiver Burnout vs. Compassion Fatigue
Compassion fatigue is similar to caregiver burnout in that it is a state of physical, emotional, and mental exhaustion. However, compassion fatigue can occur suddenly and out of nowhere. It is characterized by feelings of cynicism, detachment, and numbness.
Caregivers who experience compassion fatigue are dealing with secondary traumatic stress that can occur when caring for someone. This fatigue occurs when you are repeatedly exposed to another person's trauma (in this case, the trauma of your loved one with Alzheimer's or dementia).
If you are experiencing compassion fatigue, it is important to seek help. Thirteen warning signs of compassion fatigue include:
Avoiding people or places associated with your loved one's illness
Having trouble sleeping or eating
Withdrawing from friends and activities you enjoy
Feeling hopeless, helpless, or depressed
Experiencing cynical attitudes or comments about your loved one's care
Viewing your loved one as a burden
Cutting back on self-care activities such as exercise or socializing
Feeling detached from your emotions
Experiencing negative thoughts about your loved one
Feeling trapped in a loop
A feeling that your caregiving is not helping
A decreased interest in the events going on around you
Self-destructive behavior
You Are Not Alone: Caregiver Statistics
According to the Alzheimer's Association, more than 11 million Americans are providing care for a loved one with Alzheimer's or other dementias. Of these caregivers, 40 to 70 percent report feelings of clinical depression. Forty-two percent of caregivers would like to receive additional information about managing stress.
Know that you're not alone if you're struggling to cope with the demands of caregiving. These statistics show how common it is for caregivers to experience negative emotions like stress, anxiety, and depression. However, there are ways to manage these feelings and get support.
Managing Caregiver Burnout
Taking care of yourself physically and emotionally is vital to avoid caregiver burnout and fatigue. Here are a few tips:
Make sure to schedule breaks for yourself. Take time, even if it's just a few minutes each day. Use this time to do something you enjoy, such as reading or walking.
Stay connected with your friends and family. Lean on them for support when things get tough.
Eat healthy and exercise regularly. Both can help reduce stress levels and keep the body in tune.
Don't be afraid to ask for help when you need it. There's no shame in admitting that you can't do everything alone.
Alzheimer's and Dementia Caregiver Resources in Tennessee
If you're a caregiver in Tennessee, there are hotlines and resources available to help you cope with the challenges of caregiving.
Alzheimer's Tennessee is a valuable resource that aims to make Alzheimer's a memory. The organization holds workshops and offers support groups for all family members involved in the journey of memory loss. They also advocate for research and host day programs.
The Alzheimer's Association operates a 24/7 helpline at 1-800-272-3900 that provides support and information for caregivers across the country. Contact the Tennessee chapter for resources and support groups near you.
Contact your local Area Agencies on Aging to inquire about support services available near you from the National Family Caregiver Support Program.
Dementia Care Central offers caregiving tips and a forum to connect with other family caregivers.
Memory care communities like Dominion Senior Living of Bristol offer respite care and long-term care resources for caregivers.
Long-term Care Options in Tennessee
Memory care is a form of senior housing for people with Alzheimer's and dementia. These communities remove the emotional and physical burden from family members.
Dominion Senior Living of Bristol is committed to providing the gift of memory care for your loved one in Tennessee. We understand the challenges that come with caring for someone with memory loss. We are here to help.
Take Breaks. Prevent Burnout. Visit Dominion of Bristol.
Caring for a family member with Alzheimer's or dementia can be difficult and emotionally exhausting. Be aware of the signs of caregiver burnout and compassion fatigue so you can seek help.
Our team of expert caregivers provides around-the-clock care and assistance with activities of daily living in a secure and supportive environment. Contact us today to learn more about our memory care services. Schedule a tour of our memory care community in Bristol, TN.