Looking into memory care? Kingsport area seniors find comforting assistance and specialized care at Dominion of Johnson City. Located in the foothills of the Blue Ridge mountains, Dominion of Johnson City's memory care program offers seniors and families a resource that can help them get back to wellness and balance.
Our memory care program helps seniors living with Alzheimer's, Parkinson's, or other forms of dementia live with purpose and dignity. By providing the attention and support that meets the unique needs of someone living with memory loss, Dominion of Johnson City helps to bring a sense of normalcy back to your and your loved one's life.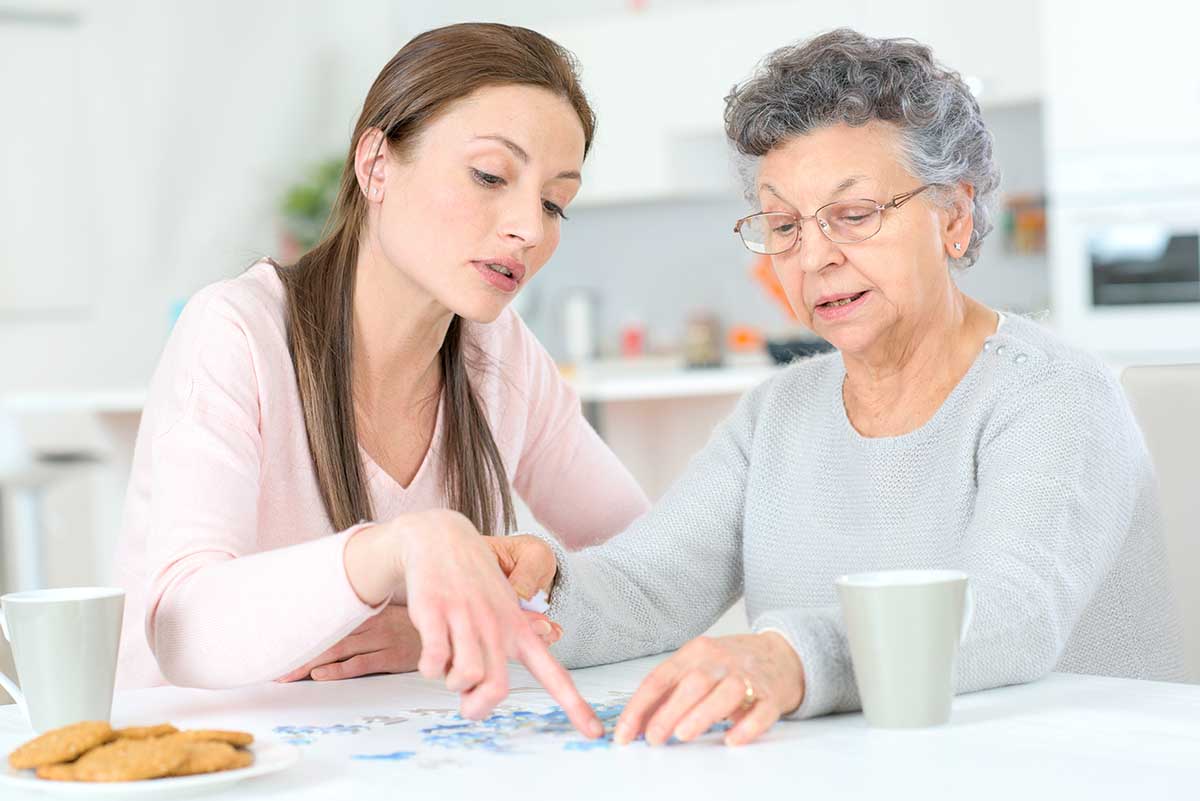 It's Okay To Ask for Help
Caring for a loved one with dementia can be both rewarding and hard. You may not understand their behavior changes or how to get through to them. When their abilities decline and they need more physical support in everyday situations, you may find yourself feeling unequipped to help them.
The Centers for Disease Control and Prevention (CDC) estimates that "each year, more than 16 million Americans provide more than 17 billion hours of unpaid care for family and friends with Alzheimer's disease and related dementias." If you've been struggling to meet the demands of daily life while caring for a loved one, it may be time to look at resources that can provide some relief.
What is memory care like?
Our program is customized to meet your loved one's individual needs and meet them where they are. Our Wellness Director works with each resident and their family to develop their individualized care plan. By working together, we outline a level of care that works best for your loved one using behavioral, environmental, and programming strategies.
Our team goes through extensive training and truly understands how to communicate effectively with someone with dementia and how to engage them in activities that help keep them socially and physically active. We approach care with kindness, patience, and understanding, giving you peace of mind that your loved one is right where they need to be.
No matter the stage of Alzheimer's or dementia, we'll assist your loved one with daily activities and use evidence-based strategies to help them remain as independent as possible with expert memory care. Kingsport, Bristol, and Johnson City families now have a resource in their area that helps improve their loved one's well-being. At Dominion of Johnson City, our goal is to help seniors living with all forms of dementia find purpose and independence at their own pace.
You'll have the assurance that your loved one will receive the honor, patience, compassion, dignity, respect, and joy they deserve.
Is Johnson City a good place to live?
In a word, yes! If you're considering a memory care community, Johnson City is a great location for seniors and families. A growing and developing area of the Southeast, Johnson City is known as a great place to live for many reasons.
Natural splendor and pleasant climate
Just west of Blue Ridge mountains and east of The Great Smoky Mountains, you'll find Johnson City. With plenty of parks, scenic drives, rivers, and lakes in the area, it's a serene location with plenty of outdoor fun to experience.
Location
Johnson City is part of what's considered the Tri-Cities, which includes Johnson City, Kingsport, and Bristol. This makes it a great choice for families searching for convenient memory care. Kingsport and Bristol are about a 30 to 40-minute drive from Johnson City.
Affordability
Johnson City is also known as a state leader in health care and ranked in the "Top 10 of the Most Affordable Cities to Live in the United States." Both of these benefits make Dominion of Johnson City a great place to live.
Music, art, and culture
Despite being the fifth-largest city in Tennessee, Johnson City feels more like a town. With East Tennessee State University and three local colleges nearby, the local community is filled with music, art, and independent dining venues. There's so much for visitors and families to enjoy.
Stop your search for memory care in the Tri-Cities area. Our holistic program combines individualized care, an extensively trained team, and a comforting home in a vibrant, conveniently-located community. Start your journey to a better life for your loved one and your family today.
Find Care For a Parent or Loved One With Dementia
If your loved one lives with Alzheimer's or another form of dementia, we can help. Call Dominion of Johnson City today at (423) 930-9001 to learn more about memory care. Kingsport, Bristol, and Johnson City families find comfort in our care.