Choose Your Dominion Lifestyle Option:
Senior Living in Tennessee Honoring God Through Service to Seniors
Assisted Living & Memory Care | Dominion of Sevierville
Choose Your Dominion Lifestyle Option:
Senior Care, Homes, and Hospitality in the Volunteer State
Our senior living community offers assisted living, memory care, and respite care to older adults in Sevierville, Tennessee. The serene surroundings of Dominion Senior Living of Sevierville echo the natural beauty of Sevier County, starting with our gardens that are landscaped with native blooming plants such as dogwoods and hydrangeas. Enjoy the majestic views of the distant Smoky Mountains and listen to the rustling creek that runs along with our property.
Let our community provide quality senior care. Tennessee families from Gatlinburg, Caton, and Catlettsburg are encouraged to visit. 
Dominion Senior Living of Sevierville
Availability, Pricing & Tours
1102 Medical Park Court
Sevierville, TN 37862 
Talk to a Senior Living Expert or Explore Dominion of Sevierville in Person
Let us know you're interested in visualizing your new lifestyle by taking a tour of our community. Dominion Senior Living will customize a thoughtful program that works for you and your loved one when you're ready. 
For potential partnerships, take a look at our Vendors page.
Senior living pricing starts at $4,500
Photography and Videos From Dominion of Sevierville 
Meet Our Executive Director
Our Mission is Excellent Service Through Faith and Compassion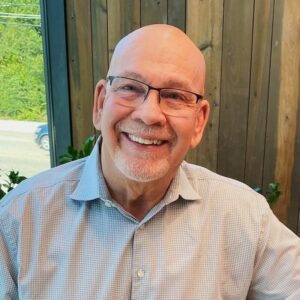 Dominion Senior Living of Sevierville
Phillip has been in the senior living industry for over 20 years and is passionate about his new role helping Sevierville seniors and families. Phillip holds a B.S. with a double major in psychology and sociology as well as an M.A. in organizational management.
Phillip's impression of Dominion Senior Living in the community has been very positive. "I was really drawn to the company and the culture," he shares. "When I saw that there was an opening for an Executive Director position, I jumped at the chance to apply. The rest is history!"
Continuing Care for East Tennessee Seniors
Senior living is about planning for the future. Older adults require different health and wellness services as they age. Assisted Living at Dominion of Sevierville is the first step to protecting future needs. Residents can join our assisted living community, knowing their future will be secure for what comes next.
Memory care at Dominion of Sevierville makes the transition from home care to residential care easier and more comforting. Families can return to enjoying precious moments with their loved ones thanks to Alzheimer's and dementia care. Honor the life of your loved one with memory care in our East Tennessee senior living community.
Common Questions About Assisted Living and Memory Care
Assisted living, memory care, and respite care are all ways of improving the lives of seniors.
Assisted living provides healthcare and activities of daily living assistance to residents. Seniors enjoy making new friends and living without hassles.
Memory care is a higher level of personal care for seniors living with Alzheimer's or a type of dementia. Residents live in a secure environment and are encouraged to participate in purposeful activities guided by specialized team members.
Respite care provides short-term stays in a senior living community. This service gives caregivers a break and allows them to take vacations or personal time knowing their loved ones are receiving the support they need.
Nursing homes or skilled nursing facilities provide intensive 24-hour medical treatment and assistance with activities of daily living to people recovering from a procedure. They also assist people with chronic conditions who may be immobile or unable to care for themselves. This form of senior living is often the most expensive.
Skilled nursing provides short-term stays to help older adults return home. If your loved one doesn't require intensive medical care, memory care provides all the assistance and purposeful activity they need.
Discover the difference and take a tour of memory care at Dominion of Sevierville. Use our services for respite care to take a well-deserved rest.
According to the 2021 Genworth Cost of Care Survey, the national average for assisted living is $4,500 per month. The average monthly cost for assisted living in Tennessee is $4,105. Assisted living residents in the Sevierville area can expect a monthly price of about $4,109. Discover the cost difference of assisted living in East Tennessee.
These care costs are less than full-time home healthcare services and temporary nursing home stays.
Talk to a senior living expert or schedule a tour of Dominion of Sevierville.