Personal care and memory care communities like Dominion Senior Living of Richmond provide long-term care services. We allow seniors to live with a higher quality of life. The senior living solution that may be right for you or a loved one may not be your initial idea of a traditional nursing home.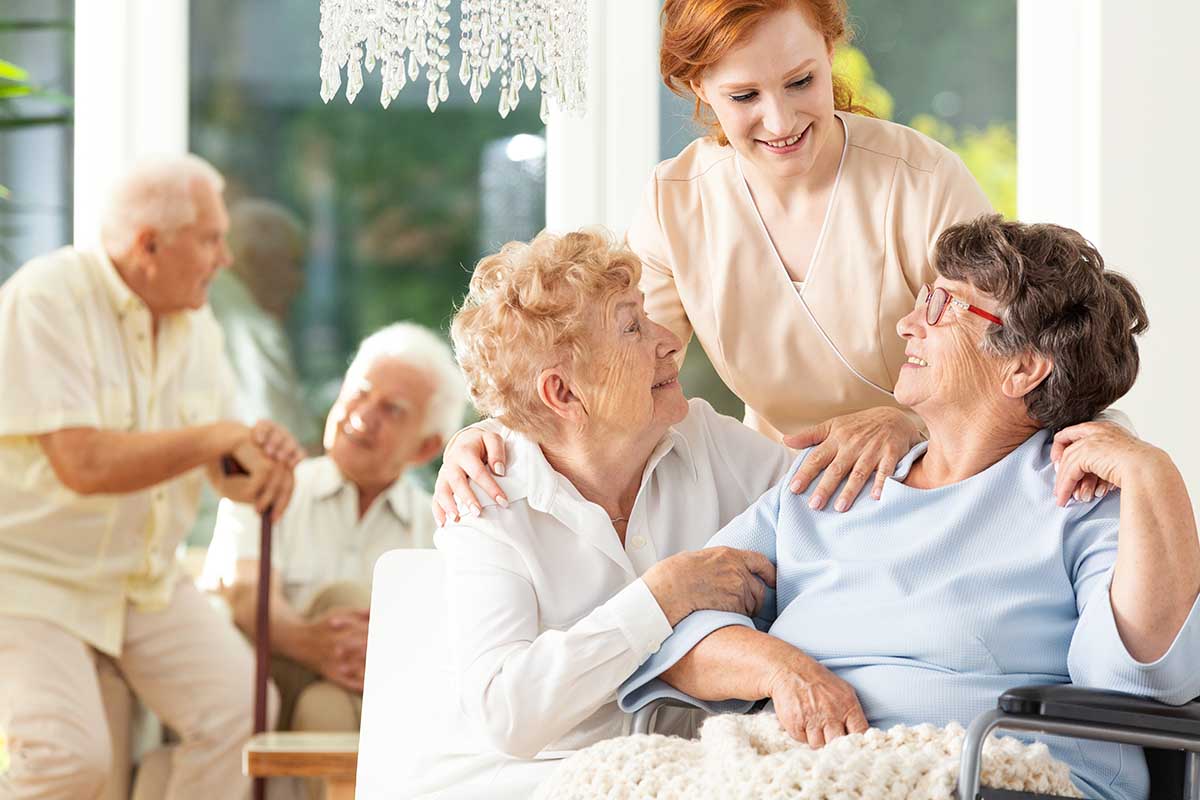 Let's explore the differences between personal care, assisted living, memory care, and nursing homes in the Richmond and Lexington, KY area.
What are nursing homes?
A more modern phrase for nursing homes is skilled nursing care. Unlike assisted living or personal care, these facilities provide intensive 24-hour medical treatment and assistance with activities of daily living (ADLs). A skilled nursing facility helps older adults return home or to assisted living communities after an injury or procedure.
Nursing home medical professionals also support people with chronic conditions who may require pain management or may be immobile. Some of the higher levels of care nursing homes provide include:
24-hour nursing supervision
IV treatment and therapy
Catheter care
Feeding tubes
Custodial care
Wound care
Physical, occupational, and speech therapy
Hospice and end-of-life care
Due to the clinical nature of skilled nursing care, Medicare Part A will pay for temporary rehabilitation stays. Insurance will require residents of nursing homes to have:
A hospital stay of at least three days.
The inability to return home independently.
A doctor's recommendation or prescription for nursing home care.
The medical nature of nursing homes creates some of the highest price tags for senior care. A stay in such a facility averages $6,996 to $9,125 per month in Lexington and the surrounding areas.
Medicare usually covers the cost of recommended short-term stays but not other forms of long-term care like a senior living community. The services will need to be paid out of pocket for extended stays in nursing homes.
What is personal care?
Personal care is a more comprehensive form of assisted living. Older adults in Kentucky and a few other select states are in luck when it comes to additional options for senior care. The most significant benefit of personal care over assisted living is the likelihood of long-term care insurance coverage.
Senior living communities that offer personal care are licensed to provide a higher level of care with individualized services. Some of the benefits that are not found in Richmond area assisted living include:
Trained, compassionate staff on-site 24-7
Guidance and oversight from a licensed Medical Director
Detailed resident notes and records
Regular wellness assessments
Licensed nursing services
Medication management
Eye care and diabetes care
Transfer assistance
Physicians and pharmacy coordination
The lifestyle options are a significant difference between the assistive care services at Dominion Senior Living of Richmond and nursing homes. Personal care is an active and social experience. We provide avenues that create strong community connections.
Activities
Pet therapy
Seated exercise
Walking clubs
Patriotic and seasonal art projects
Special events and parties
Live entertainment
Scenic drives
Amenities
Three chef-prepared meals daily
Cyber cafe
Salon
Transportation
Housekeeping and laundry services
Activity rooms
Well-manicured outdoor areas
Worship services
What is memory care?
Specialized team members provide purposeful and individualized services to seniors living with Alzheimer's and other forms of dementia. Residents live in a secure and easy-to-navigate section of our building. We take the burden of caregiving away from family members.
Memory care lets families enjoy quality time together again. The dementia care experts at Dominion of Richmond let seniors live dignified and respectful lives. Residents can also experience a sense of independence and community.
Our team provides daily activities that challenge the brain and body to promote the growth of new neural networks. Ensuring residents are active and engaged can encourage a higher quality of life.
One hundred fifty thousand family members currently care for a loved one with Alzheimer's in the Commonwealth of Kentucky. Let the understanding team do the heavy lifting. Memory care is a blessing.
About Dominion Senior Living of Richmond
Dominion Senior Living of Richmond provides modern and upscale services for older adults less than 30 minutes south of Lexington, KY. Living options include two-bedroom, one-bedroom, and studio apartments for all lifestyles.
Our community is family-run and faith-based. We believe that honoring the lives of seniors is our highest calling. That's why our building is immaculate, the food is chef-prepared, and the care is individualized.
You'll find a home here, no matter what level of care is suitable for you or a loved one.
Find the Right Services for Senior Care in Richmond, Kentucky
We encourage seniors and their families living in Richmond and nearby areas to visit our community. Let us give you a personalized tour of the senior lifestyle right for your needs. Contact us to get started.