Deciding to let others provide Alzheimer's and dementia care for a loved one is a heavy burden. Many family members want to do all they can to continue providing support by themselves. However, the Dominion of Bristol memory care community is here to offer guidance.
When is it time to place a loved one in a memory care facility? That answer is different for everyone.
However, if care is becoming too much for a family member to handle, it may be time. Continue reading to learn more about when it's time for memory care, paying for the cost of memory care, and where to find trusted resources.
What are the signs a person with dementia needs memory care?
Four signs that indicate a person with dementia needs full-time memory care include:
The person is experiencing memory loss and confusion that interferes with daily living.
The person is at risk for or has begun wandering.
The person is experiencing falls and avoidable accidents.
The person lacks socialization and is a risk for depression.
Seniors may need full-time memory care because they cannot complete activities of daily living (ADLs). This fact is common among older adults.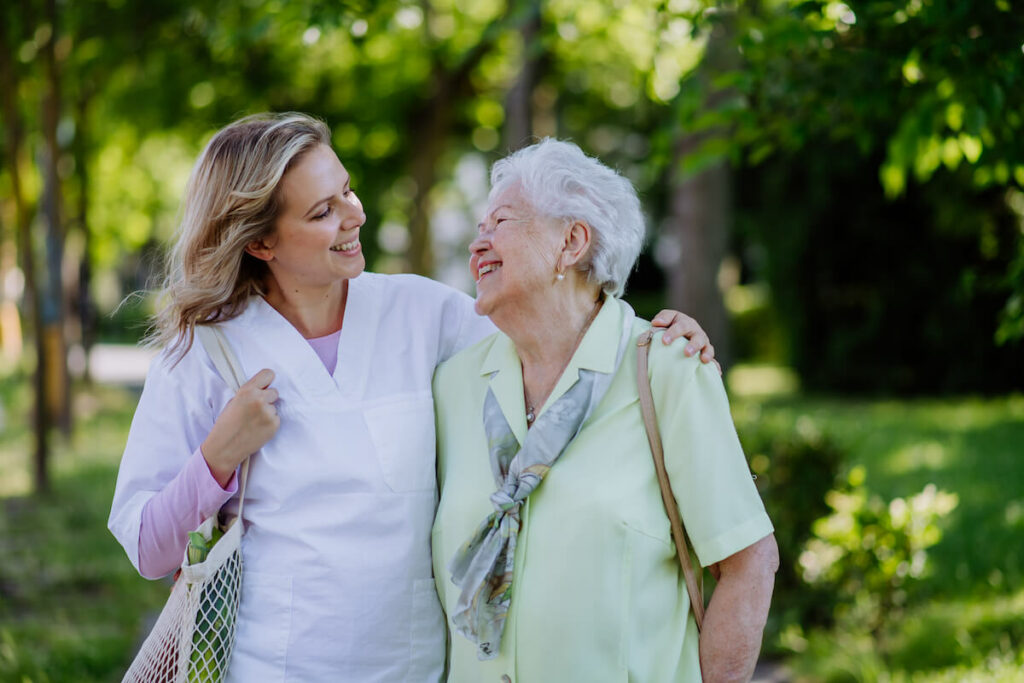 Nearly sixty-two percent of older adults in Tennessee senior living need assistance with bathing. Another fifty percent require mobility assistance and help to get dressed.
If your loved one struggles to perform these tasks independently, consider a facility that can provide them with around-the-clock assistance.
It's nearly impossible for family caregivers to supervise a loved one with dementia at all times. Preventing wandering is usually not a question of if but when.
Dementia can alter sleep patterns, and people may wake up at night. They might get ready to go to their old job or another place of fond memory.
Avoid accidents like burns or falls by ensuring the home uses preventative measures. Putting locks on appliances and removing tripping hazards are common. However, these items can be missed by home caregivers. They have a lot to deal with and need help to keep up with every detail.
When occurrences like this begin, it can be easy for a caregiver to experience burnout. The best way to care for someone is to care for yourself first.
People with Alzheimer's and dementia are at a higher risk for depression. The symptoms are heavily intertwined. Loneliness and isolation are common in people with memory loss. On top of providing personal care, caregivers need to supply engaging activities.
Inviting friends and family for regular interactions are essential to preventing depression and isolation.
Long-term memory care communities can help with the heavy lifting of providing health care, supervision, and engagement.
What are the benefits of Dominion of Bristol memory care?
Seniors in Bristol memory care have access to round-the-clock care. Our community rewards family members with the gift of peace of mind.
Dominion of Bristol provides modern senior living solutions for people in different stages and types of dementia. We are the only dedicated memory community in the area.
Our specialized caregivers give residents personalized attention. The team meets the unique needs of people with memory loss due to experience and ongoing training. We are prepared to work with family members to develop a care plan that meets the needs of their loved ones.
In addition to a dementia-friendly environment, Dominion of Bristol provides:
ADLs assistance
Medication management
On-site rehabilitation
Personal care and hygiene
Chef-prepared meals
Worship services
Transportation
Individualized activities
Life enrichment services
Social events and entertainment
Family support services
All of our programs, services, and activities keep residents stimulated. Engaging the brain helps improve the quality of life for seniors with Alzheimer's or other forms of dementia. Living in a socially supportive environment can improve mood and self-esteem.
The Cost of Memory Care in Bristol, TN
Senior living in Tennessee is cost-effective compared to many surrounding states. Assisted living facilities in the northeastern Tennessee area average about $4,445 per month. Memory care costs can increase due to the higher levels of care. However, the average cost of memory care in the Bristol area is similar.
The cost of memory care can vary depending on the level of care required, but it is typically more expensive than other types of senior living communities.
There are a few different ways to pay for memory care, including:
Private pay
Government benefits
Insurance
Private pay is when the individual or their family pays for the care out of pocket using pensions and retirement savings.
Government benefits, such as Medicare, can help to cover the cost of medically necessary services received in the facility.
Insurance policies, such as long-term care insurance, may also provide coverage for memory care expenses.
Memory Care Resources In Bristol, TN
Don't struggle to decide if it is time for memory care. Dominion of Bristol is here to be a resource. Give yourself and your loved one the gift of enriching support.
Contact our memory care experts to take a tour and see the benefits in person.