As the population ages, more and more people are turning to senior living options for their elderly loved ones. But what is the difference between a personal care community and senior home care in Louisville, KY? How do you determine the level of care needed for an elderly family member? How do you know which service will fit a loved one's lifestyle?
Let the Dominion Senior Living of Louisville experts help explain the differences between senior home care and a personal care community. We'll also discuss activities of daily living (ADLs) and how they can determine a level of care.
Senior Home Care vs. Personal Care Community
Two popular senior living solutions in Louisville, KY are senior home care and a personal care community. Immediately the idea of staying at home sounds appealing. Living in the luxury of a senior living community has its advantages.
Senior home care involves hiring a caregiver to come into a person's home on an hourly basis. These professionals may offer homemaker services, home health aide services, or skilled nursing.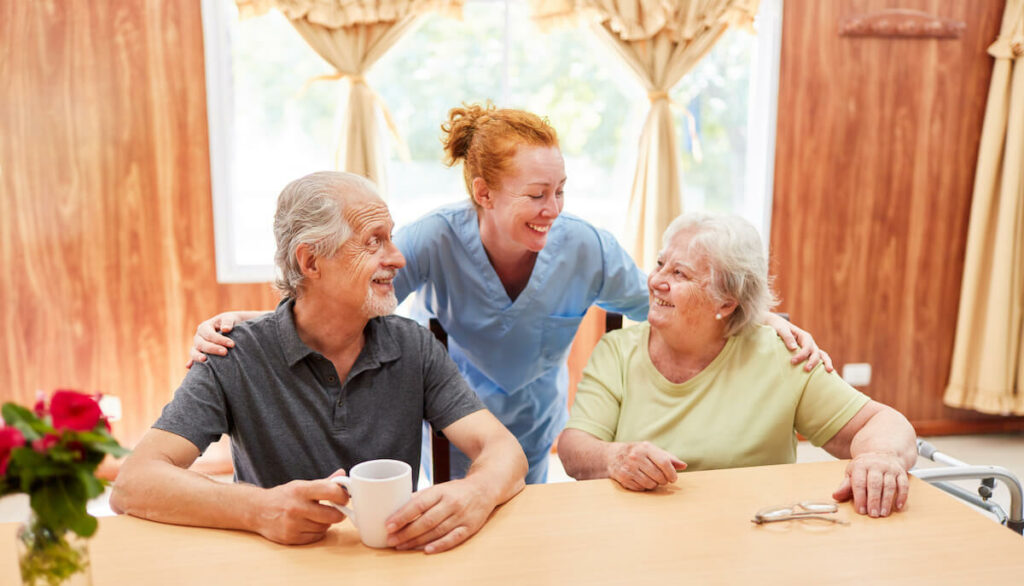 Homemaker services are suitable for seniors returning from a hospital or nursing home visit. Typical homemaker services assist with daily tasks and activities such as:
Meal preparation
Cleaning
Shopping
Companionship
A home health aide will provide services similar to those in an assisted living facility. That includes hygiene needs, bathing, and medication management. Some aids may offer rehabilitation services as well.
Skilled nursing or palliative care at home is another option for older adults with chronic conditions. Some higher-level types of home care will offer dementia care specialists for seniors with memory loss.
The cost of home care in Louisville, KY averages about $4,767 per month. That cost is factored at 44 hours of care per week. Round-the-clock home care can easily cost over four times as much. An assisted living community or personal care home is typically cheaper.
Personal care communities provide 24-hour access to support and assistance. This type of senior living focuses on letting older adults live independent and enriched lives.
A myriad of social activities promotes physical activity and mental stimulation. Chef-prepared meals offer excellent nutrition. Utilities, housekeeping, maintenance, and transportation are included as well.
Dominion Senior Living of Louisville is an example of a personal care community that also offers memory care. We provide this service to make the transition to a higher level of care easier for current residents. New residents with Alzheimer's and dementia are also welcome.
ADLs are a significant feature of personal care and memory care. Providing these services is how seniors retain and empower their independence.
ADLs and How to Determine the Level of Care for a Senior
Activities of Daily Living (ADLs) are basic tasks most people must do to live independently. These include:
Eating
Bathing
Dressing
Grooming
Transferring
Personal hygiene
ADLs can indicate how much support someone may need in their everyday life. The typical personal care resident in Kentucky needs assistance bathing, walking, and dressing.
How to determine the level of care for an elderly adult:
When determining the level of care needed by an elderly family member, it is essential to consider ADLs. A personal care community is an excellent choice if a loved one requires assistance with two or more ADLs.
The first step is assessing their abilities to perform ADLs independently or with minimal assistance. Determine if they also need additional help with instrumental ADLs such as:
Medication management
Medical equipment assistance
Cooking
Housekeeping and home maintenance
Transportation
Managing finances
Personal care communities provide all the services listed above. Loved ones can live in modern senior apartments to receive the support they need. There is no need to hire multiple caregivers and pay piles of bills. One monthly bill takes care of everything in a senior care community.
A geriatrician or other qualified health professional should conduct assessments to determine a level of care. Moving into Dominion Senior Living of Louisville includes this service. We work with residents and family members to develop an individualized care plan.
Dominion Senior Living of Louisville
Dominion Senior Living of Louisville is a personal care community in Louisville that offers quality service with compassion and respect.
Our team of experienced professionals provides personalized attention tailored to each resident's needs while promoting independence. Our wellness programs include:
Walking clubs
Arts and crafts classes
Stretching and strengthening classes
Worship services
We offer flexible meal plans so that residents receive proper nutrition. Our meals also encourage additional chances for socialization in the dining room. We also provide transportation services so our residents can explore all that Louisville offers without worry.
When looking for senior care options in Louisville, it's vital to understand the difference between senior home care services and personal care communities. Understanding ADLs is also crucial. Knowing the difference can save a lot of money in the long run.
Experience Personal Care in Louisville, KY
Dominion Senior Living of Louisville offers tours of our personal care community in Louisville. Consider our team a resource in finding personalized senior care. Contact us to begin!