Are you considering home care as an option for someone you know with Alzheimer's or dementia? While this can be a viable option for some, there are many advantages to placing a loved one in an Alzheimer's care community such as
Dominion of Louisville
. Caring for a loved one with Alzheimer's at home can be emotionally and physically taxing. It can be hard to know how to care for Alzheimer's patients at home while also taking care of yourself. For many families, the answer to this question can be found in specialized memory care facilities in Louisville, KY. Let's explore why choosing a
memory care community in your local area
is the right choice for your family.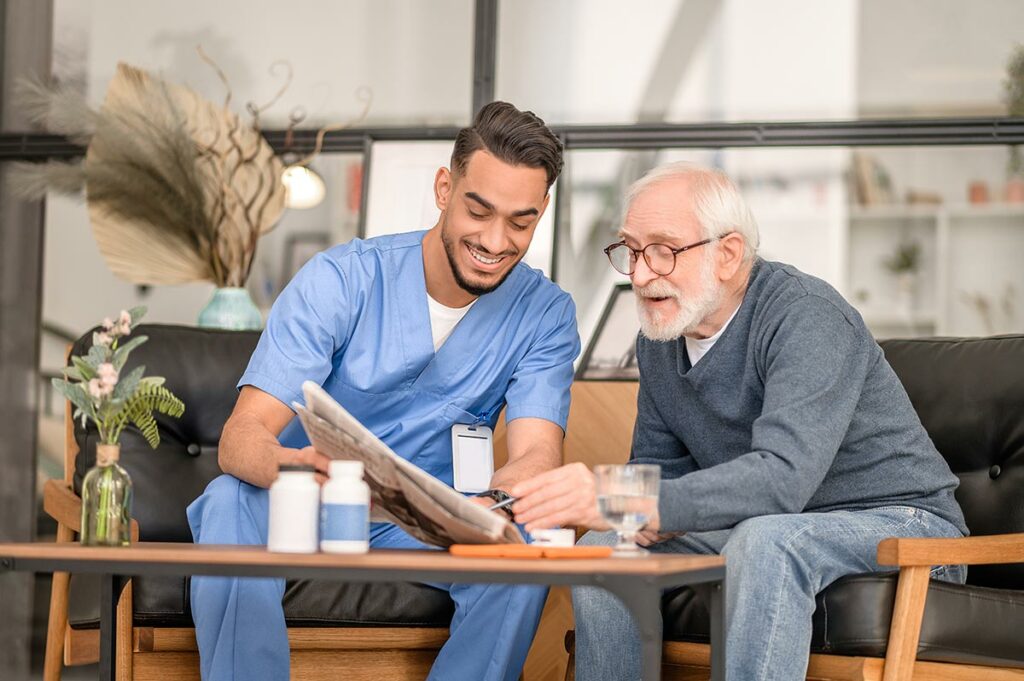 What is memory care?
Memory care communities are designed to provide specialized services for individuals with Alzheimer's, dementia, or other forms of memory loss. This form of long-term care is sometimes referred to as Alzheimer's or dementia care. These communities provide a secure environment where residents can receive 24-hour supervision. Assistance with personal care and medical needs is available from trained dementia care specialists. This type of senior housing also offers activities and therapies to help residents maintain high cognitive function and live a high-quality life.
The Benefits of Memory Care
The benefits of memory care often outweigh family support or home health care. Memory care communities provide round-the-clock supervision, making them a comprehensive option to home health services which may not be available 24/7. Memory care facilities often offer scheduled activities tailored specifically to their residents' needs, allowing them to engage in meaningful activities while also receiving necessary medical attention when needed. Social opportunities are the most significant benefit of memory care. Group activities such as games and cooking classes help residents stay connected with others. Family caregivers and home health aids often lack the resources to provide:
Personal care
Health care
Nutritious meals
A variety of social and recreational activities
Dementia-friendly exercises
Brain stimulation and challenges
Memory care communities provide all these services and more. Daily group exercise and socialization have numerous benefits, such as:
Better sleep patterns
Stronger bones and muscles
Improved heart health
Healthy weight management
Lessen anxiety, depression, and confusion
Four Reasons to Choose Alzheimer's Care at Dominion of Louisville
Dominion of Louisville is an excellent place to tour when looking for Alzheimer's care in Louisville, KY. Here are three reasons why memory care should be your first choice when considering care for someone with Alzheimer's.
1. Personalized Care Plans
Every resident at Dominion of Louisville receives personalized attention from our experienced caregivers. Team members work with families to develop individualized plans that cater to their loved one's needs. Residents are provided with the support they need to live comfortably. We understand that each person is unique and requires specialized care, so we offer customized living plans for all our residents. We also have a 24-hour emergency response team to ensure your loved one feels comfortable and secure in our community.
2. Comprehensive Amenities
In addition to personalized care plans, we offer extensive amenities at Dominion of Louisville. These resort-style features make life easier and more enjoyable for our residents. Our community includes:
Spacious private apartments
Secure outdoor areas
Chef-prepared meals services
Live entertainment
Family and resident parties
Housekeeping and home maintenance services
Our luxurious features provide a comfortable environment where loved ones can feel at home and validate their importance. These benefits enrich the experience of each resident.
3. Respite Care
Our community offers
short-term respite stays
that give primary caregivers a break. Respite care residents enjoy access to all the benefits listed above. Short-term stays allow family caregivers to vacation or attend to other responsibilities. This benefit is also an excellent way to take a trial run at memory care without a big commitment.
4. Comfort and Relief
Family members can feel relief and return to their lives when loved ones live in our memory care community. Giving up caretaking duties eases the stress on relationships. Families get to be a family again. Understand our dementia care specialists are dedicated to helping loved ones live as independently as possible. Team members take the time to get to know each memory care resident. Taking such a vested interest equals tailored assistance that suits their needs and preferences. There's no need for family members to worry about managing everyday tasks or responding quickly during an emergency. Our specialized team is here and prepared to help with the unique needs of memory loss. Dominion Senior Living of Louisville is here to help if you are ready to search for 'Alzheimer's care near me.' Caring for someone with Alzheimer's is not easy, nor is finding the support they need. However, it doesn't have to be overwhelming. Our memory care community in Louisville offers personalized plans and comprehensive amenities. We let loved ones and family members feel independent and engaged in life. Find comfort and relief by letting us take on all the responsibilities associated with caring for someone with Alzheimer's.
Complete and Compassionate Alzheimer's Care: Louisville, KY
Dominion of Louisville is an exceptional memory care community in Louisville, KY. We provide compassionate and personalized service for those with Alzheimer's or dementia. Find our senior living community near the crossroads of Brownsboro Road and the Watterson Expressway.
Contact us to arrange a tour of a life-changing opportunity.